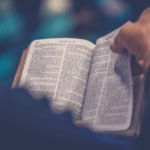 Download Think Right 2
Download, Listen, Share, Think Right (Stop the operation of the spirit of foolishness 2) and Be blessed in Jesus Name.
Think Right 2
ADORATION
Lord, my heart cries out
Glory to the King
My greatest love in life
I hand You everything
Glory, glory, I hear the angels sing
Open my ears, let me hear Your voice
To know that sweet sound
Oh, my soul rejoice
Glory, glory, I hear the angels sing
You're the Father to the fatherless
The answer to my dreams
I see You crowned in righteousness
We cry glory to the King
Comforter to the lonely
The lifter of my head
I see You veiled in majesty
We cry glory, glory
We cry glory to the King
AFTER THANKSGIVING SONG
Halle Halle Hallelujah
Glory Glory we praise Your Name
You are the King of kings
And the Lord of lords
We praise Your Name
LESSONS
Foolishness is a spirit that influences the believer but rests upon the unbeliever
Matthew 4:1 – 10

4 Then was Jesus led up of the Spirit into the wilderness to be tempted of the devil.

2 And when he had fasted forty days and forty nights, he was afterward an hungred.

3 And when the tempter came to him, he said, If thou be the Son of God, command that these stones be made bread.

4 But he answered and said, It is written, Man shall not live by bread alone, but by every word that proceedeth out of the mouth of God.

5 Then the devil taketh him up into the holy city, and setteth him on a pinnacle of the temple,

6 And saith unto him, If thou be the Son of God, cast thyself down: for it is written, He shall give his angels charge concerning thee: and in their hands they shall bear thee up, lest at any time thou dash thy foot against a stone.

7 Jesus said unto him, It is written again, Thou shalt not tempt the Lord thy God.

8 Again, the devil taketh him up into an exceeding high mountain, and sheweth him all the kingdoms of the world, and the glory of them;

9 And saith unto him, All these things will I give thee, if thou wilt fall down and worship me.

10 Then saith Jesus unto him, Get thee hence, Satan: for it is written, Thou shalt worship the Lord thy God, and him only shalt thou serve.
Job 6:25

25 How forcible are right words! but what doth your arguing reprove?
PRAYER
Holy Spirit Grant unto me the mind of Christ
Think Right 2
Read Pray to Build
Visit our Music Institute
Jesus Loves You and Needs You
There are many wonderful promises that God has for both in this life and also eternal life after death. But to access these promises, you need to first accept Jesus Christ as your Lord and saviour. Say this prayer:
Dear Lord Jesus,

I admit that I am a sinner. I thank you for the sacrifice you paid for me by dying on the cross and and rising up again. Today I surrender my life to you. Be my Lord and King forever and ever. Amen!
If you have said this prayer, contact us via our email, [email protected], or call us via +233-26-000-9090. You can also chat with us via SMS or whatsapp.
God bless you
Think Right 2