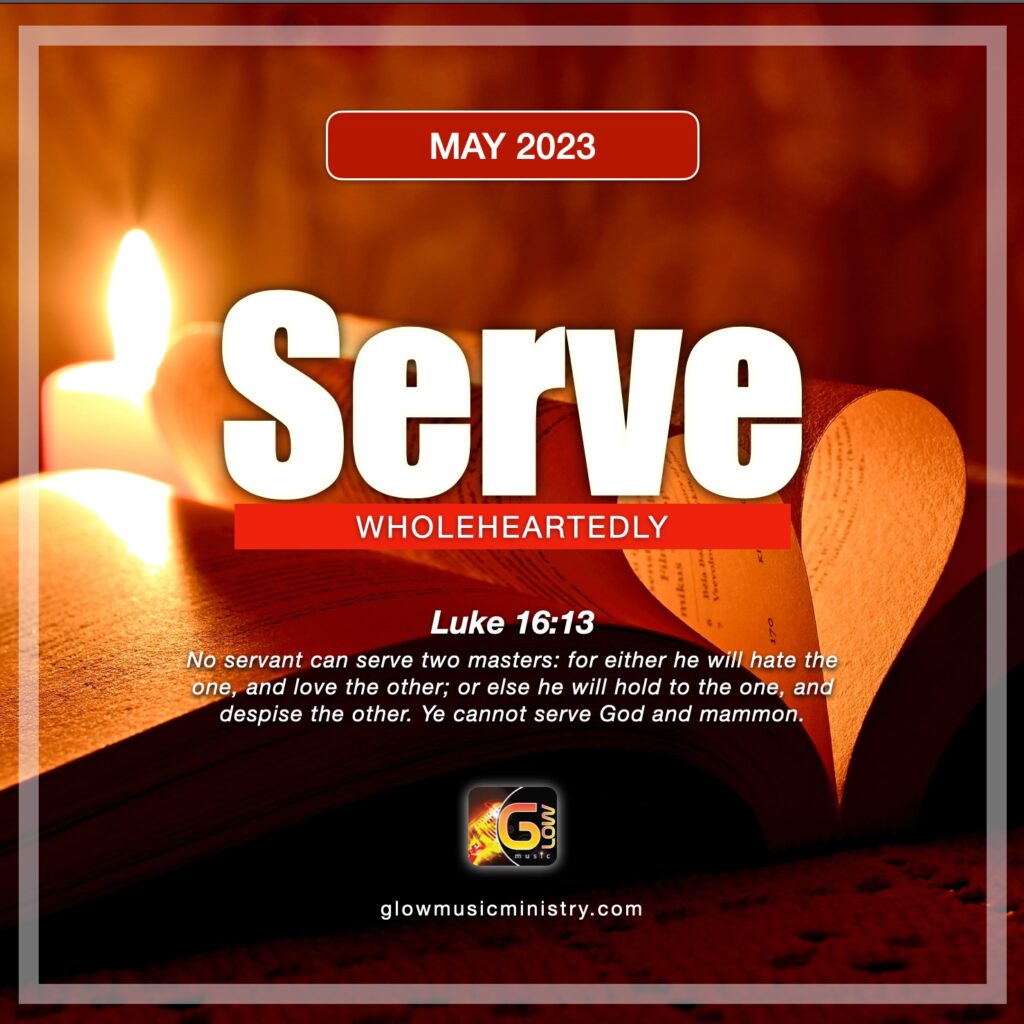 Theme for the month
SERVE WHOLEHEARTEDLY
Luke 16: 13
No servant can serve two masters: for either he will hate the one, and love the other; or else he will hold to the one, and despise the other. Ye cannot serve God and mammon.
Take note of the following announcements
PRAYER AND FASTING
Luke 18:1 – Men ought to pray and not faint:
As a ministry we fast on Mondays and Fridays from 6am to 12pm. Be a part of this waiting period before the Lord.
BETHEL ENCOUNTER
Join us for Bethel Encounter – Strategic Prayer Times for Discerning Ministers on Mondays, Tuesdays, Thursdays and Fridays
Mondays – Blessed Monday Edition
Tuesday – Anointed Tuesday Edition
Thursday – Favoured Thursday
Friday – Glorious Friday
Time: 12:00pm to 12:30pm Local Time
Platforms – Website (glowmusictv.com/live) and Youtube
WORSHIP HOUR
SING TO GOD ON SUNDAY 6PM
We labour from dawn to dusk
But how long do we sing to God?
Make this worship time personal
Sing to The Lord as an offering
TESTIMONIES AND PRAYER REQUESTS
Share your testimonies and prayer requests using the links below;
TECHNICAL CONFIGURATIONS
As we have members joining our live services from all over the world, we can understand that you may face all kinds of technical challenges or slow internet once in a while.
Kindly exercise patience when any such is experienced, and make the effort to listen to recorded versions in addition to the live service whenever you can, for extra blessing.
If you face and peculiar challenge with regards to joining online, kindly send a message via the chatline on the website or visit: glowmusicministry.com/help 
You can also contact us on 0260009090
Invitations
Invite a friend, colleague or family member to join Glow Music Ministry to partake in the blessings of God by sending them the link: glowmusicministry.com/invite
Every information needed for new members can be found there. You can also call our hotline for any assistance on 020-9636001
Podcasts
We learn from Acts 20:32, that only the Word of God can guarantee us an everlasting inheritance amongst believers.
So, let's endeavour to always listen to God's Word again and again through at: glowmusicministry.com/podcast