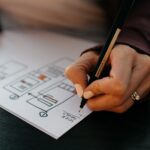 Benefits of Planning
Planning is the process of setting goals and defining the actions required to achieve the goals.
Planning is essential to be able to to achieve goals.
Planning starts with SMART Goals
We know that Goals have to be SMART:
Specific
Measurable
Attainable / Achievable
Realistic
Time-bound
Start Planning with God
Ensure that each and every time, your plans fall within God's plan.
Psalm 37:23
23 The steps of a good man are ordered by the Lord: and he delighteth in his way.
Consequences of Failing to Plan
When we fail to plan it affects us negatively and also affects others who are dependent on our success. Planning goes to affect generations even after us; so it is important to plan.
Planning provides a clear guide for action
Planning improves utilization of resources
Planning allows options ensuring flexibility.
Plans help us set standards for performance.
Plans ensure motivation and commitment
You Can Receive Eternal Life Today
John 3:16
For God so loved the world, that he gave his only begotten Son, that whosoever believeth in him should not perish, but have everlasting life.
You can receive eternal life today by believing and receiving Jesus Christ as Lord over your life today.
Now is your opportunity because tomorrow may be too late. To do this, say the prayer below:
Prayer
Lord Jesus, I thank you for sacrifice you paid for me even though I am a sinner.
Today, I believe that you are the Son of God and you died for my sins and rose up again in victory over death
Please be the Lord over my life for ever.
Thank you for saving me, Amen
From today, you are a child of God. Call Glow Music Ministry on 020-9636001 for us to pray with you and show you what next to do.
God bless you.
Read Pray to Build
Visit our Music Institute
Jesus Loves You and Needs You
There are many wonderful promises that God has for both in this life and also eternal life after death. But to access these promises, you need to first accept Jesus Christ as your Lord and saviour. Say this prayer:
Dear Lord Jesus,

I admit that I am a sinner. I thank you for the sacrifice you paid for me by dying on the cross and and rising up again. Today I surrender my life to you. Be my Lord and King forever and ever. Amen!
If you have said this prayer, contact us via our email, [email protected], or call us via +233-26-000-9090. You can also chat with us via SMS or whatsapp.
God bless you