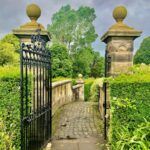 Download Thanksgiving, The Gateway To Wonders
Thanksgiving is the manifestation of wonders
THANKSGIVING, THE GATEWAY TO WONDERS
Daniel 6:10
10 Now when Daniel knew that the writing was signed, he went into his house; and his windows being open in his chamber toward Jerusalem, he kneeled upon his knees three times a day, and prayed, and gave thanks before his God, as he did aforetime.

Matthew 15:36
36 And he took the seven loaves and the fishes, and gave thanks, and brake them, and gave to his disciples, and the disciples to the multitude

Luke 17:15-19
15 And one of them, when he saw that he was healed, turned back, and with a loud voice glorified God,
16 And fell down on his face at his feet, giving him thanks: and he was a Samaritan.
17 And Jesus answering said, Were there not ten cleansed? but where are the nine?
18 There are not found that returned to give glory to God, save this stranger.
19 And he said unto him, Arise, go thy way: thy faith hath made thee whole.

Psalm 75:1
1 Unto thee, O God, do we give thanks, unto thee do we give thanks: for that thy name is near thy wondrous works declare.

Thanksgiving, The Gateway To Wonders
LESSONS
The life of the believer is to be that of wonder because he is made in the image and likeness of a Wondrous God
The believer is constantly living in the world of wonders because it is the spirit of God in charge.
John 3:8
8 The wind bloweth where it listeth, and thou hearest the sound thereof, but canst not tell whence it cometh, and whither it goeth: so is every one that is born of the Spirit.
Thanksgiving sets the stage for God to prove His wonders
Thanksgiving places a demand on God to prove Himself
Thanksgiving, The Gateway To Wonders
Jesus Loves You and Needs You
There are many wonderful promises that God has for both in this life and also eternal life after death. But to access these promises, you need to first accept Jesus Christ as your Lord and saviour. Say this prayer:
Dear Lord Jesus,

I admit that I am a sinner. I thank you for the sacrifice you paid for me by dying on the cross and and rising up again. Today I surrender my life to you. Be my Lord and King forever and ever. Amen!
If you have said this prayer, contact us via our email, [email protected], or call us via 020-9636001. You can also chat with us via SMS or whatsapp.
God bless you
Thanksgiving, The Gateway To Wonders