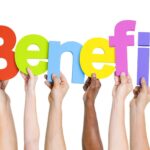 Special Benefits for Music Ministers
BENEFITS OF MINISTRY
Introduction:
We have learnt from previous lessons that Ministry is the Work of a minister. Today we shall learn the benefits of Ministry
MINISTRY HAS BENEFITS
1 Corinthians 3:8
8 Now he that planteth and he that watereth are one: and every man shall receive his own reward according to his own labour.
THE BENEFITS
1. Spiritual Growth
John 15:2
2 Every branch in me that beareth not fruit he taketh away: and every branch that beareth fruit, he purgeth it, that it may bring forth more fruit.
2. The 100 Fold Blessing
Matthew 19:29
29 And every one that hath forsaken houses, or brethren, or sisters, or father, or mother, or wife, or children, or lands, for my name's sake, shall receive an hundredfold, and shall inherit everlasting life.
3. Divine Nourishment and Health
Exodus 23:25
25 And ye shall serve the Lord your God, and he shall bless thy bread, and thy water; and I will take sickness away from the midst of thee.
4. Fruitfulness of Womb
Exodus 23:26a There shall nothing cast their young, nor be barren, in thy land:
5. Fulfilled Days
Exodus 23:26b the number of thy days I will fulfill
6. Destruction upon Enemies
Exodus 23:27
I will send my fear before thee, and will destroy all the people to whom thou shalt come, and I will make all thine enemies turn their backs unto thee.
7. Dominion (Take Over)
Exodus 23:28-30
And I will send hornets before thee, which shall drive out the Hivite, the Canaanite, and the Hittite, from before thee.
29 I will not drive them out from before thee in one year; lest the land become desolate, and the beast of the field multiply against thee.
30 By little and little I will drive them out from before thee, until thou be increased, and inherit the land.
8. Unlimited Provision
Deut 11:14,15
14 That I will give you the rain of your land in his due season, the first rain and the latter rain, that thou mayest gather in thy corn, and thy wine, and thine oil.
15  And I will send grass in thy fields for thy cattle, that thou mayest eat and be full.
Read The Spirit of Revelation for Excellence
Visit our Music Institute