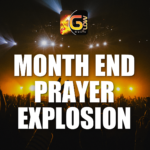 Download Month End Prayer Explosion – Aug 2023
Download, Listen, Share, Be blessed in Jesus Name.
PROPHETIC DECLARATIONS INTO SEPTEMBER
Concerning Divine Mercies
Psalm 103:17
17 But the mercy of the Lord is from everlasting to everlasting upon them that fear him, and his righteousness unto children's children;
Declare this after me…
According to God's Word in Psalm 103:17
in the month of September 2023,
I will abide under God's mercies
every day of the month
I am shielded by His mercies
My family is shielded
because, of me, my loved ones are covered
wherever the enemy calls my name
God will answer him
The blood of Jesus speaks for me
In Jesus Name
Concerning Divine Health
Malachi 4:2
2 But unto you that fear my name shall the Sun of righteousness arise with healing in his wings; and ye shall go forth, and grow up as calves of the stall.
Declare this after me…
According to God's Word in Malachi 4:2
in the month of September 2023,
I will grow as calves of the stall
I will not be feeble
I will not be sick
I will not be faint
I will not be weak
I abide in health
Every single day of the month
In Jesus Name
Concerning Business and Education
Genesis 26:12
12 Then Isaac sowed in that land, and received in the same year an hundredfold: and the Lord blessed him.
Declare this after me…
As a child of Abraham through Christ Jesus,
I prosper where others lack
I prosper where others complain
I am blessed with overflow
As I serve God most high,
I receive true riches
I prosper above my competitors
I will never beg in September 2023
I rather give without taking back
Because there is too much available
all to the Glory of God
In Jesus Mighty Name
Concerning Spiritual Life
Proverbs 11:30
30 The fruit of the righteous is a tree of life; and he that winneth souls is wise.
Declare this after me…
In the month of September
I bear fruit in God's Kingdom
I curse any fruitlessness
out of my life forever
I am a fruitful vine
My relationship with God
get better and better
In Jesus Mighty Name
Personal Supplication & Offering
Psalm 34:15
15 The eyes of the Lord are upon the righteous, and his ears are open unto their cry.
Speak to God concerning any matter that you are trusting Him for In Jesus Mighty Name
THANK THE LORD FOR ANSWERED PRAYER
NOTES FOR SEPTEMBER 2023
God is the One who rules
Psalm 103:19
19 The Lord hath prepared his throne in the heavens; and his kingdom ruleth over all.
Daniel 4:17
17 This matter is by the decree of the watchers, and the demand by the word of the holy ones: to the intent that the living may know that the most High ruleth in the kingdom of men, and giveth it to whomsoever he will, and setteth up over it the basest of men.
God is the One who calls
2 Timothy 1:9
9 Who hath saved us, and called us with an holy calling, not according to our works, but according to his own purpose and grace, which was given us in Christ Jesus before the world began,
Galatians 5:13
13 For, brethren, ye have been called unto liberty; only use not liberty for an occasion to the flesh, but by love serve one another.
God is the One who commands
Psalm 147
10 He delighteth not in the strength of the horse: he taketh not pleasure in the legs of a man.
11 The Lord taketh pleasure in them that fear him, in those that hope in his mercy.