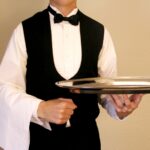 How exactly are you serving
There are UNLIMITED BLESSINGS in Serving God.
However many do not get blessed because of an Attitude Problem.
When serving God, do so…
1. Willingly – Ex. 25:2
2. Joyfully – Ps. 100:2
3. Wholeheartedly – Luke 10:27
4. Consistently – 1 Kgs 20:40
5. Persistently – Mat 25:4
6. Boldly – Joshua 1:7
With this you will be Continually Blessed without Lacking.
Stay away from grumbling, complaining, backbiting, inconsistencies, dragging of feet, mockery, murmuring, lack of faith, fearfulness and carelessness.
Take a moment to think through how you have served God; if it is right. Ask for forgiveness and Grace where you failed; Keep on where you succeeded.
Join us at Glow Music Ministry this Wednesday to Learn and Excel in Service as we approach Victory Praise in December 2019.
Special Message from Pastor Bernard
Read The Spirit of Revelation for Excellence
Visit our Music Institute