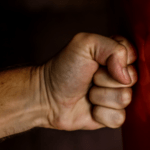 Download Grace Beyond Strength 2
Download, Listen, Share, Grace Beyond Strength 2 and Be blessed in Jesus Name.
Grace Beyond Strength 2
ADORATION
Yesu Kristo
mogya adi Nkunim ama yεn
Momma yεn mbɔ ose ma No
Mo mbɔ ose, mo mbɔ ose
Mo mbɔ ose mma yεn Hene no
Yesu Kristo
mogya adi Nkunim ama yεn
Momma yεn mbɔ ose ma No
THANKSGIVING SONG
Halle, Halle, Halle, Hallelujah
Hallelujah
Hallelujah, Hallelujah
Hallelujah praise the Lord
SCRIPTURAL TRUTHS
Psalm 33:16,17

16 There is no king saved by the multitude of an host: a mighty man is not delivered by much strength.
17 An horse is a vain thing for safety: neither shall he deliver any by his great strengt
LESSONS
Human Strength is Limited. Scripturally, there is a limited place for strength.
e.g.
Human mental capacity or human wisdom is limited. Divine Wisdom and The Spirit of Counsel is stronger
Proverbs 8:14
14 Counsel is mine, and sound wisdom: I am understanding; I have strength.
Divine Wisdom is strong enough to create the earth.
Proverbs 3:19
19 The Lord by wisdom hath founded the earth; by understanding hath he established the heavens.
Financial ability or riches may be strong but it only limited.
Proverbs 10:15
15 The rich man's wealth is his strong city: the destruction of the poor is their poverty.
Divine Provision from God's grace is stronger
Genesis 47:15
15 And when money failed in the land of Egypt, and in the land of Canaan, all the Egyptians came unto Joseph, and said, Give us bread: for why should we die in thy presence? for the money faileth.
In 2 Kings 6:29 – Women boiled their children to eat in Samaria when economy failed due to war with Ben-hadad the King of Syria.
God by His grace brought 24-hour economic deliverance through His Prophet Elisha in 2 Kings 7:1.
Human beauty is limited
Vashti was fair to look upon (Esther 1:11) but she lost her place to The Grace of God which Esther held onto
(Esther 2:17)
Proverbs 31:30
30 Favour is deceitful, and beauty is vain: but a woman that feareth the Lord, she shall be praised.
NEVER NEGLECT THE GRACE OF GOD BECAUSE OF THE ANOINTING
Although David was God's Anointed, there were many times in his life where he was saved by the Grace of God.
e.g. when his friend and wife saved him from King Saul.
e.g. when his own son executed a coup against him and sought for his life after sleeping with all his wives openly.
God's grace saved him.
Elijah after defeating the prophets of Baal fled for his life at the threat of a wicked woman (Jezebel)
He sought to die; but God came in with grace to sustain him. (1 Kgs 19:4)
No matter how anointed you are or gifted you are, you can never succeed without the Grace of God.
Acknowledge God's grace over your life.
PRAYER
Thank You Lord God Almighty for Your Grace to overcome all limitations.
Grace Beyond Strength 2
Read Pray to Build
Visit our Music Institute
Jesus Loves You and Needs You
There are many wonderful promises that God has for both in this life and also eternal life after death. But to access these promises, you need to first accept Jesus Christ as your Lord and saviour. Say this prayer:
Dear Lord Jesus,

I admit that I am a sinner. I thank you for the sacrifice you paid for me by dying on the cross and and rising up again. Today I surrender my life to you. Be my Lord and King forever and ever. Amen!
If you have said this prayer, contact us via our email, [email protected], or call us via +233-26-000-9090. You can also chat with us via SMS or whatsapp.
God bless you
Wisdom For The Anointed 1