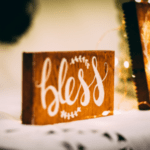 Download Blessed to Be a Blessing
Download, Listen, Share, Blessed to Be a Blessing and Be blessed in Jesus Name.
Blessed to Be a Blessing
ADORATION
Jesus, we enthrone You
We proclaim You are king
Standing here, in the midst of us
We raise You up with our praise
And as we worship build Your Throne
And as we worship build Your Throne
And as we worship build Your Throne
Come Lord Jesus and take Your place
THANKSGIVING SONG
Oh come let us adore Him
Oh come let us adore Him
Oh come let us adore Him
Christ The Lord
For He alone is Worthy
For He alone is Worthy
For He alone is Worthy
Christ The Lord
SCRIPTURES
Genesis 12:1-3

1 Now the Lord had said unto Abram, Get thee out of thy country, and from thy kindred, and from thy father's house, unto a land that I will shew thee:
2 And I will make of thee a great nation, and I will bless thee, and make thy name great; and thou shalt be a blessing:
3 And I will bless them that bless thee, and curse him that curseth thee: and in thee shall all families of the earth be blessed.
Ephesians 1:3-11

3 Blessed be the God and Father of our Lord Jesus Christ, who hath blessed us with all spiritual blessings in heavenly places in Christ:
4 According as he hath chosen us in him before the foundation of the world, that we should be holy and without blame before him in love:
5 Having predestinated us unto the adoption of children by Jesus Christ to himself, according to the good pleasure of his will,
6 To the praise of the glory of his grace, wherein he hath made us accepted in the beloved.
7 In whom we have redemption through his blood, the forgiveness of sins, according to the riches of his grace;
8 Wherein he hath abounded toward us in all wisdom and prudence;
9 Having made known unto us the mystery of his will, according to his good pleasure which he hath purposed in himself:
10 That in the dispensation of the fulness of times he might gather together in one all things in Christ, both which are in heaven, and which are on earth; even in him:
11 In whom also we have obtained an inheritance, being predestinated according to the purpose of him who worketh all things after the counsel of his own will:
Isaiah 42:6-7

6 I the Lord have called thee in righteousness, and will hold thine hand, and will keep thee, and give thee for a covenant of the people, for a light of the Gentiles;
7 To open the blind eyes, to bring out the prisoners from the prison, and them that sit in darkness out of the prison house.
PRAYER POINT 1
Our Father in Heaven, Thank You for counting us worthy to receive Your blessing and be partakers of Your glory.
PRAYER POINT 2
Our Father in Heaven, according to Your Word, You called us and blessed us to be a blessing. Help us to be able to exercise our Spiritual gifts, individually and collectively, by the agency of the Holy Spirit to make the impact You require in Ministry, family, work, education, relationships etc. in Jesus Name.
PRAYER POINT 3
Our Father in Heaven, Help us to be able to identify the purposes of our physical and financial blessings as You pour them on us. Grant us grace to shelve our desires and yield them to Your purpose of being a blessing wherever we find ourselves, as you demand it. So the poor will be blessed of us, our families, society, the Kingdom, our workplaces, schools  and the people therein in Jesus Name.
Blessed to Be a Blessing
Jesus Loves You and Needs You
There are many wonderful promises that God has for both in this life and also eternal life after death. But to access these promises, you need to first accept Jesus Christ as your Lord and saviour. Say this prayer:
Dear Lord Jesus,

I admit that I am a sinner. I thank you for the sacrifice you paid for me by dying on the cross and and rising up again. Today I surrender my life to you. Be my Lord and King forever and ever. Amen!
If you have said this prayer, contact us via our email, [email protected], or call us via +233-26-000-9090. You can also chat with us via SMS or whatsapp.
God bless you