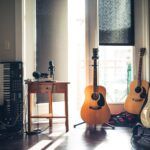 Download Are You a Musician or a Believer 1
Download, Listen, Share, Are You a Musician or a Believer 1 and Be blessed in Jesus Name.
Are You a Musician or a Believer 1
ADORATION
Oh come let us adore Him
Oh come let us adore Him
Oh come let us adore Him
Christ the Lord
For He alone is Worthy
For He alone is Worthy
For He alone is Worthy
Christ the Lord
THANKSGIVING SONG
Hear our prayer
We are your children and
We've gathered here today
We've gathered here to pray
Hear our cry, Lord we need your mercy
And we need your grace today
Hear us as we pray
Our father who art in heaven
Hallowed be thy name'
Our father hear us from heaven
Forgive our sins we pray
SCRIPTURES
John 1:22-23
22 Then said they unto him, Who art thou? that we may give an answer to them that sent us. What sayest thou of thyself?
23 He said, I am the voice of one crying in the wilderness, Make straight the way of the Lord, as said the prophet Esaias.

Luke 4:17-21
17 And there was delivered unto him the book of the prophet Esaias. And when he had opened the book, he found the place where it was written,
18 The Spirit of the Lord is upon me, because he hath anointed me to preach the gospel to the poor; he hath sent me to heal the brokenhearted, to preach deliverance to the captives, and recovering of sight to the blind, to set at liberty them that are bruised,
19 To preach the acceptable year of the Lord.
20 And he closed the book, and he gave it again to the minister, and sat down. And the eyes of all them that were in the synagogue were fastened on him.
21 And he began to say unto them, This day is this scripture fulfilled in your ears.

Matthew 11:2-6
2 Now when John had heard in the prison the works of Christ, he sent two of his disciples,
3 And said unto him, Art thou he that should come, or do we look for another?
4 Jesus answered and said unto them, Go and shew John again those things which ye do hear and see:
5 The blind receive their sight, and the lame walk, the lepers are cleansed, and the deaf hear, the dead are raised up, and the poor have the gospel preached to them.
6 And blessed is he, whosoever shall not be offended in me.

Luke 23:2-3
2 And they began to accuse him, saying, We found this fellow perverting the nation, and forbidding to give tribute to Cæsar, saying that he himself is Christ a King.
3 And Pilate asked him, saying, Art thou the King of the Jews? And he answered him and said, Thou sayest it.

Are You a Musician or a Believer 1
LESSONS
The Level of Revelation you have about your Identity is directly proportional to the Level of impact you have.
Jesus knew who He was (John 9:5)
You must know who you are (Mat 5:14, John 1:12)
Many musicians are unable to rise to the Apex of their delivery because they fail the IDENTITY QUESTION: WHO AM I?
As a musician, before you sing or play, always ask yourself "who am I"?
You need a good relationship to make a good report
Your identity in the Kingdom of God is connected to Christ Jesus and the song you sing is an extension of the relationship you have with Him.
The relationship comes first before the song
Mark 7:6
6 He answered and said unto them, Well hath Esaias prophesied of you hypocrites, as it is written, This people honoureth me with their lips, but their heart is far from me.

1 John 1:1
1 That which was from the beginning, which we have heard, which we have seen with our eyes, which we have looked upon, and our hands have handled, of the Word of life;
PRAYER
Father in Heaven,
Grant me the grace to get deeper in relationship with You, to sing from a relationship with You and not merely a report about You
Are You a Musician or a Believer 1
Read Pray to Build
Visit our Music Institute
Jesus Loves You and Needs You
There are many wonderful promises that God has for both in this life and also eternal life after death. But to access these promises, you need to first accept Jesus Christ as your Lord and saviour. Say this prayer:
Dear Lord Jesus,

I admit that I am a sinner. I thank you for the sacrifice you paid for me by dying on the cross and and rising up again. Today I surrender my life to you. Be my Lord and King forever and ever. Amen!
If you have said this prayer, contact us via our email, [email protected], or call us via +233-26-000-9090. You can also chat with us via SMS or whatsapp.
God bless you
Are You a Musician or a Believer 1